JAXA hosted the 4th Asia-Pacific Water Summit (APWS)'s Official Side Event "Space Technologies for addressing Water Issues" in Kumamoto.
JAXA hosted an official side event "Space Technologies for addressing Water Issues" at the 4th Asia-Pacific Water Summit (APWS) in Kumamoto, 23-24 April 2022. Thank you very much for all the participants!
(*) 4th Asia-Pacific Water Summit (APWS) Official Side Event
Symposium and Exhibition held by JAXA "Space Technologies for addressing Water Issues"
https://www.satnavi.jaxa.jp/apws-kumamoto-2022/apws_j.html
https://www.satnavi.jaxa.jp/apws-kumamoto-2022/apws_e.html
Symposium materials are available at the above website.
■Symposium "Space Technologies for addressing Water Issues" (23 April, 17:10-18:40 JST)
The Asia-Pacific region is vulnerable to climate change, particularly water-related disasters. In mitigating damage from water-related disasters, the challenge is to improve forecasting capabilities, from short-term weather forecasts to long-term climate change projections, in addition to understanding the situation on the ground through timely observations. In this side event, experts from various countries discuss issues associated with water-related disasters and challenges in agriculture.
Opening remarks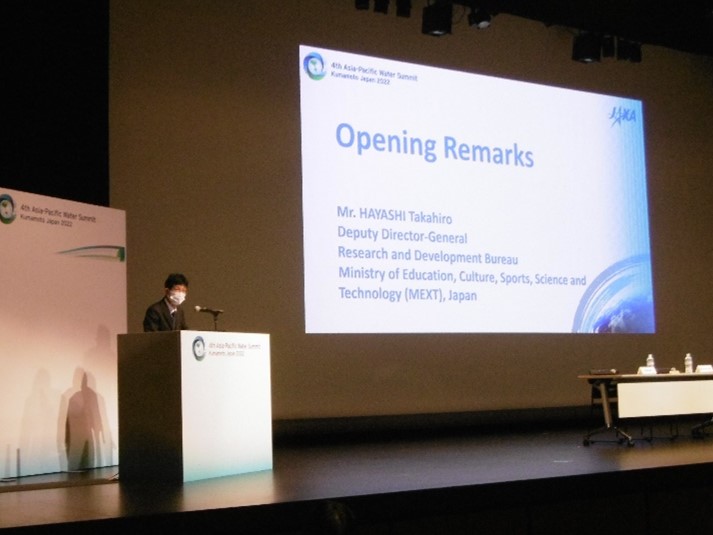 Mr. HAYASHI Takahiro, Deputy Director-General of Research and Development Bureau, Ministry of Education, Culture, Sports, Science, and Technology (MEXT) of Japan made opening remarks. He mentioned that as there is a compelling need for grasping on-site situations by real-time observation when water disasters happen, uniform and long-term satellite observations are vital for solutions to water-related disasters and water resources.
The countermeasures against water disasters using prediction technologies from short- to long-term to adapt to climate change risks have also been discussed by the Intergovernmental Panel on Climate Change (IPCC). He also stated that JAXA is expected to continue promoting activities related to disaster control measures using satellite data such as the provision of water disasters related information and real-time precipitation data. He also emphasized that JAXA's consistent acquisition and accumulation of satellite data will continue to contribute to water-related issues such as disaster reduction and food security in the future.
Keynote address
We invited Ambassador Rahm Emanuel and Mr. John C. Taylor, Principal Officer at the U.S. Consulate in Fukuoka from U.S. Ambassador to Japan as keynote speakers.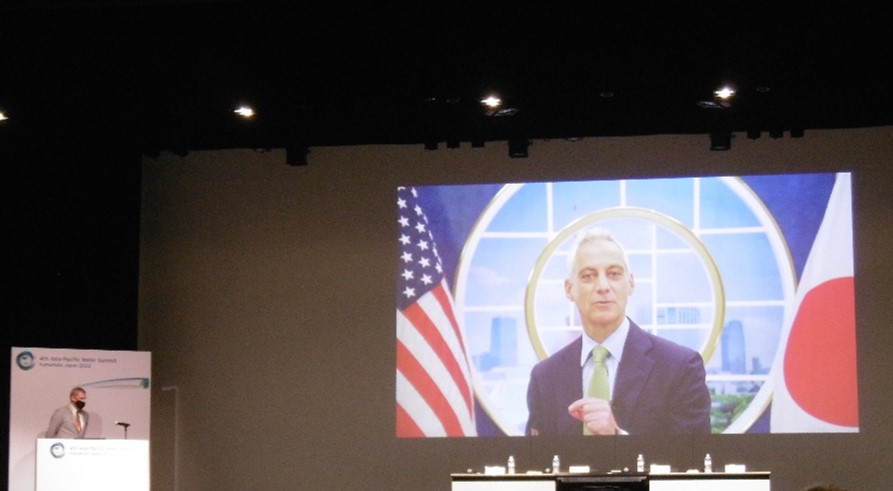 Ambassador Rahm Emanuel introduced that the U.S. takes the climate change matter seriously and has rejoined the Paris Agreement and is reviewing the information. He also noted that U.S. Ambassador to Japan is addressing the issues jointly with the government of Japan for a sustainable and bright future for children. He also shared his experiences from when he was the mayor of Chicago where six universities including one Israeli university jointly researched water shortage and preservation of valuable resources for future generations. He also shared his experience of realizing the importance of cooperation among universities, governments, and communities to address water shortages when he learned that maps showing areas of civil war and conflict overlapped with maps showing areas of drought at his first meeting as the Obama administration's chief of staff. In the end, He wished that outcomes from the 4th APWS discussions will be productive and will draw a path to the future.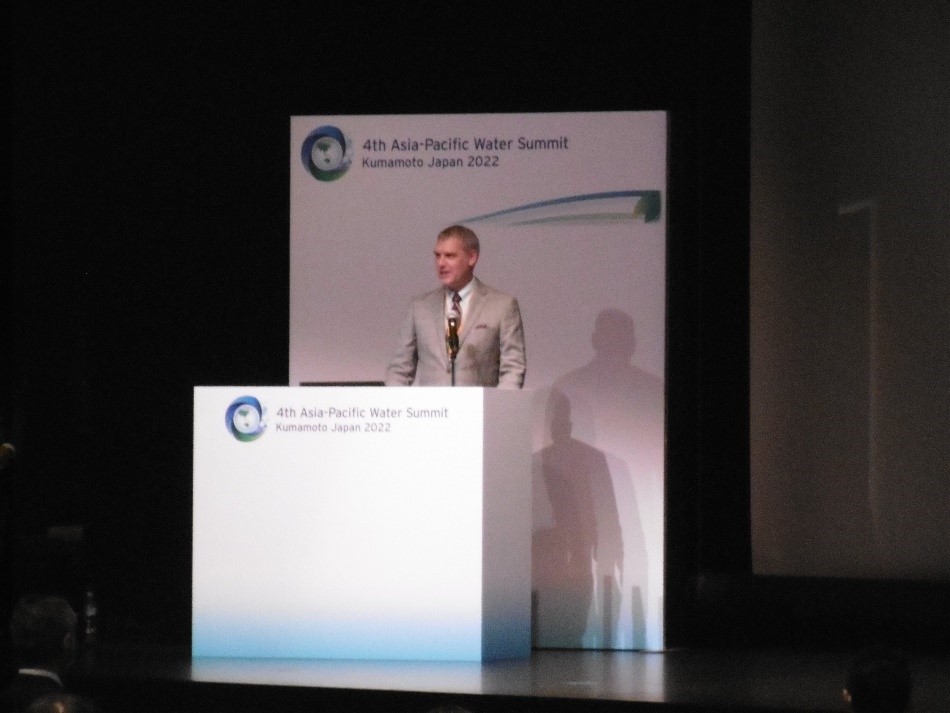 Mr. John C. Taylor mentioned that we need to take actions to maintain the world's water environment including oceans and He added that the U.S has been making investments in water resources and infrastructures as the impact of climate change on the has become too big to be ignored and these impacts are obvious, particularly in rising oceans' temperature and sea level rises and acidification. He also added that the U. S government supports sustainable economic growth while conserving the ocean. He also noted that science and technology are important components for taking action as we have clear scientific evidence on the impact of climate change on the marine ecosystem and that it is really important to understand that we, not only U.S. and Japan but also many other countries, have to cooperate to find solutions.
Session 1: Overview of Space Technologies
Dr. Hiroshi Yamakawa, President of JAXA, and Karen St. German, Director of Earth Science Division of NASA introduced satellite missions addressing water-related issues in Session 1: Overview of Space Technologies.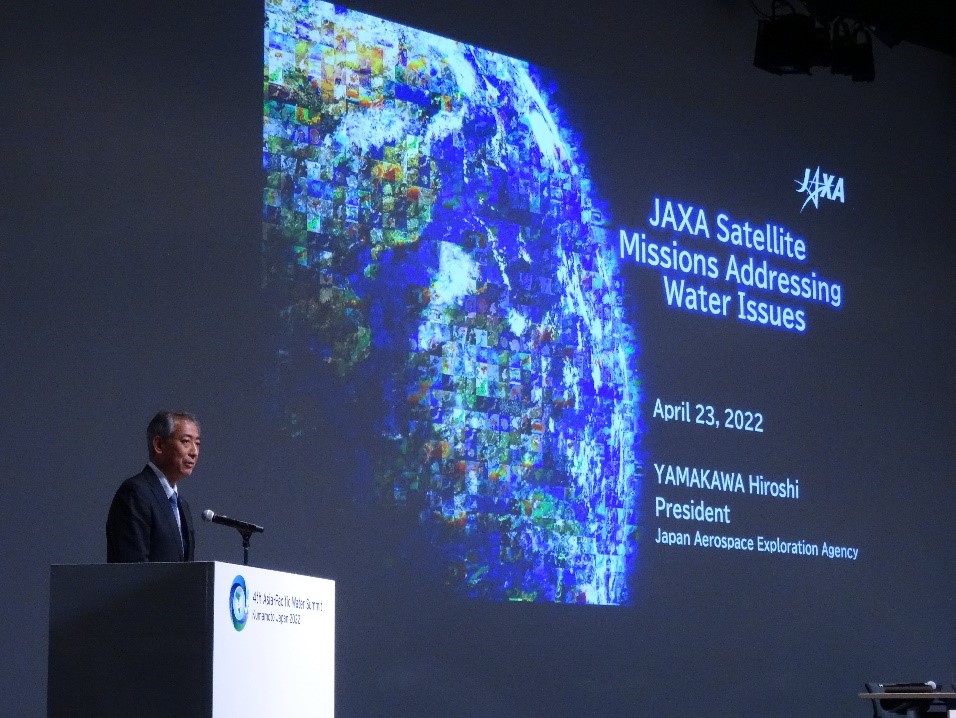 Dr. Yamakawa emphasized the importance of enhancing our understanding of the earth's environmental changes mechanism through global and consistent observations for a long-periods. In this regard, He introduced JAXA's global and consistent observations for more than 30 years. He also stated that disaster and satellite observations have no national borders and countries around the world need to work together to solve global-scale problems.
In particular, in the area of precipitation observation, He mentioned that JAXA and NASA jointly launched TRMM in 1997 and GPM in 2014, and have been obtaining precipitation data for over 20 years. Taking the advantage of this long-standing expertise in satellite precipitation observation JAXA is now considering its satellite precipitation observation technology for future missions with the collaboration of NASA
He also added that JAXA will continue to work closely with space agencies, policymakers, and end-user organizations from countries around the world and members of the Kumamoto Declaration for solving the issues by utilization of the information obtained through long-term global observations.
He also added that JAXA will respond to the Kumamoto Declaration's strong call for the provision of science and technology to solve water issues by continuing satellite observations and enhancing observation technology.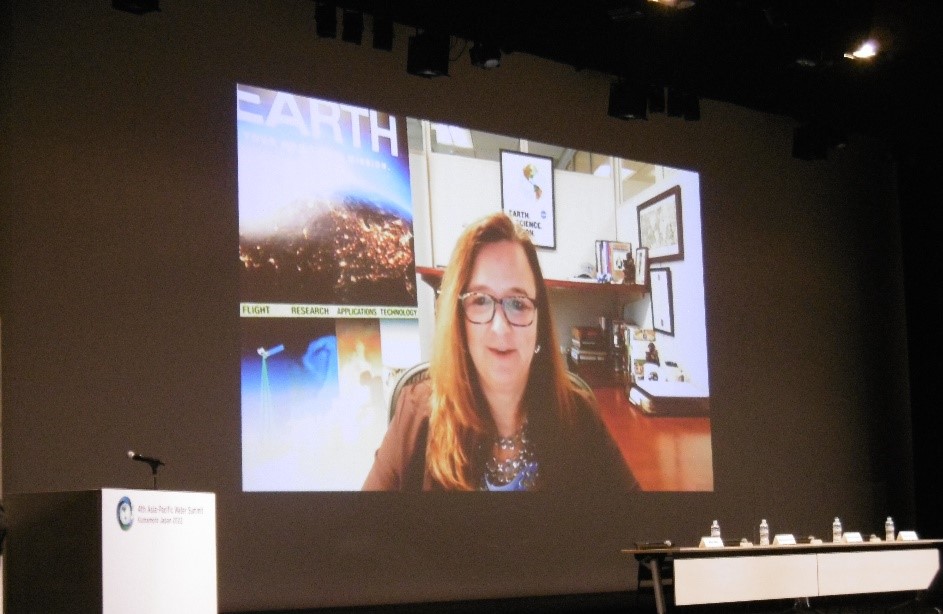 Dr. Karen St. German stressed the importance of cooperation and the need for dialogue and partnerships among international space agencies to address issues such as climate change. She introduced some cooperative missions with other space agencies such as SWOT (Surface Water and Ocean Topography) with France and NISAR (NASA-ISRO Synthetic Aperture Radar) with India, and some other NASA's future launches. She also introduced the Atmosphere Observing System (AOS) which is a considering mission to observe aerosol, cloud, flux, and precipitation in collaboration with JAXA, and noted that JAXA's contribution to the precipitation observation will enhance the value of science and that JAXA is one of the key partners of NASA in the field of the water cycle.
Session 2: Panel Discussion "Addressing for Resolution of Water Issues by use of Earth Observation Data"
Dr. Riko Oki, Director of Earth Observation Research Center of JAXA, moderated Session 2: Panel Discussion "Addressing for Resolution of Water Issues by use of Earth Observation Data". We invited 5 national and international water expert panelists. They introduced their activities on water issues. The importance of these activities and what needs to be done to address future issues were then discussed.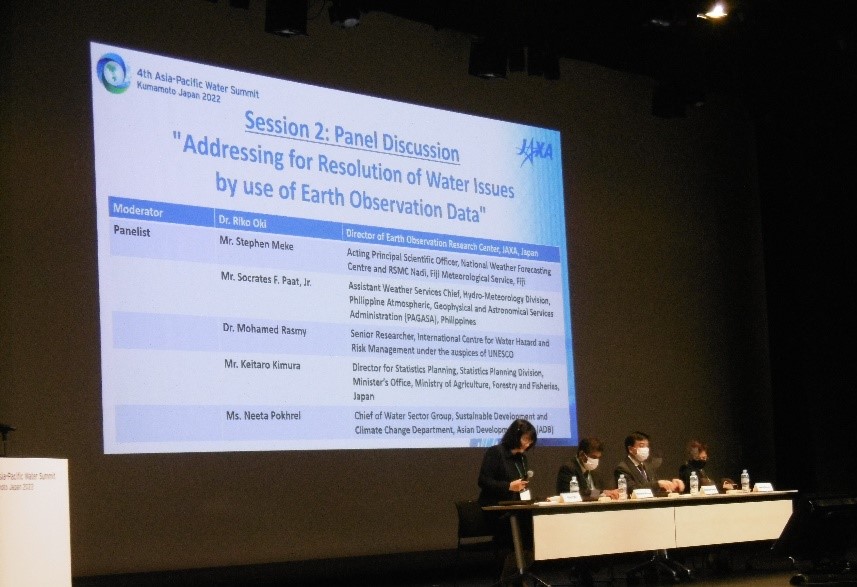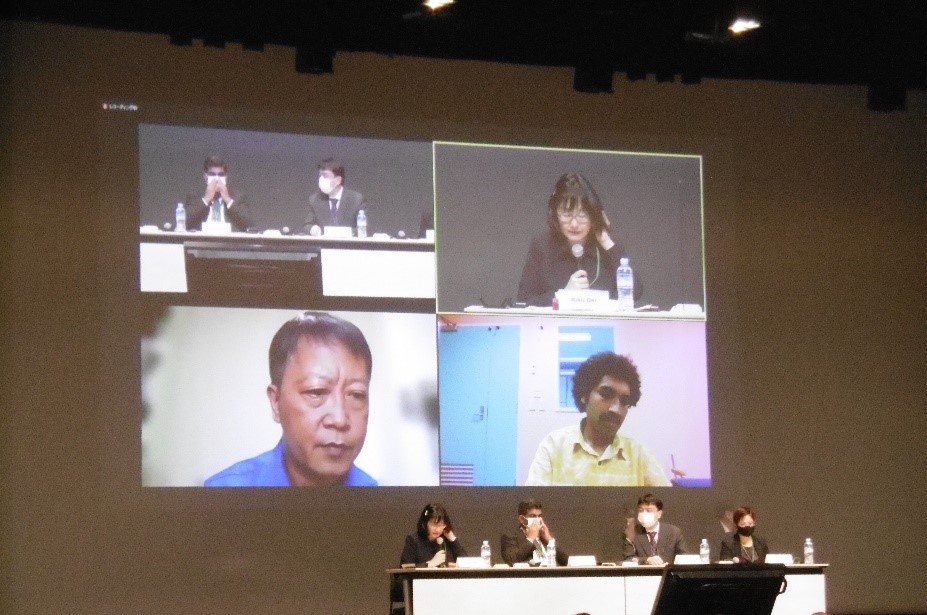 Mr. Stephen Meke, Fiji Meteorological Service, introduced the use of satellite data in Fiji's meteorological services. He introduced how JAXA's real-time satellite global precipitation maps (GSMaP) are very useful information for early warning of heavy rain, flooding potential and are used for comparison against various other rainfall estimates.
Mr. Socrates F. Paat, Jr., Geophysical and Astronomical Services Administration (PAGASA) of the Philippines introduced the use of satellite data for weather forecasting in the Philippines. He also mentioned that the Philippines has more than 1,000 rivers and is suffering from many water disasters such as cyclones, etc. PAGASA uses information obtained from satellite data for the operation of multi-purpose dams and improving flood response with the cooperation of the Japanese government and JAXA.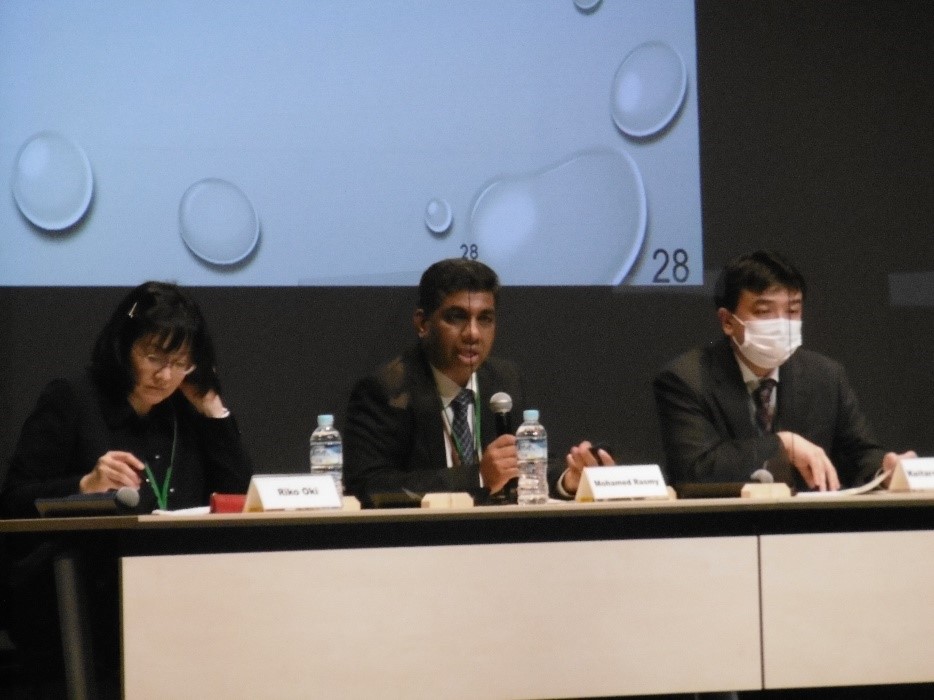 Dr. Mohamed Rasmy, Senior Researcher of the International Centre for Water Hazard and Risk Management under the auspices of UNESCO, emphasized the importance of satellite data with some examples from climate change and disaster response and introduced a case study of using GSMaP to assess the optimal rain gauge installation to obtain highly accurate precipitation data in a river basin in real-time for flood forecasting purposes. He also wished that such information can be utilized in various fields from the economy to water-related disaster damage mitigation, secure water resources, and contribute to the SDGs.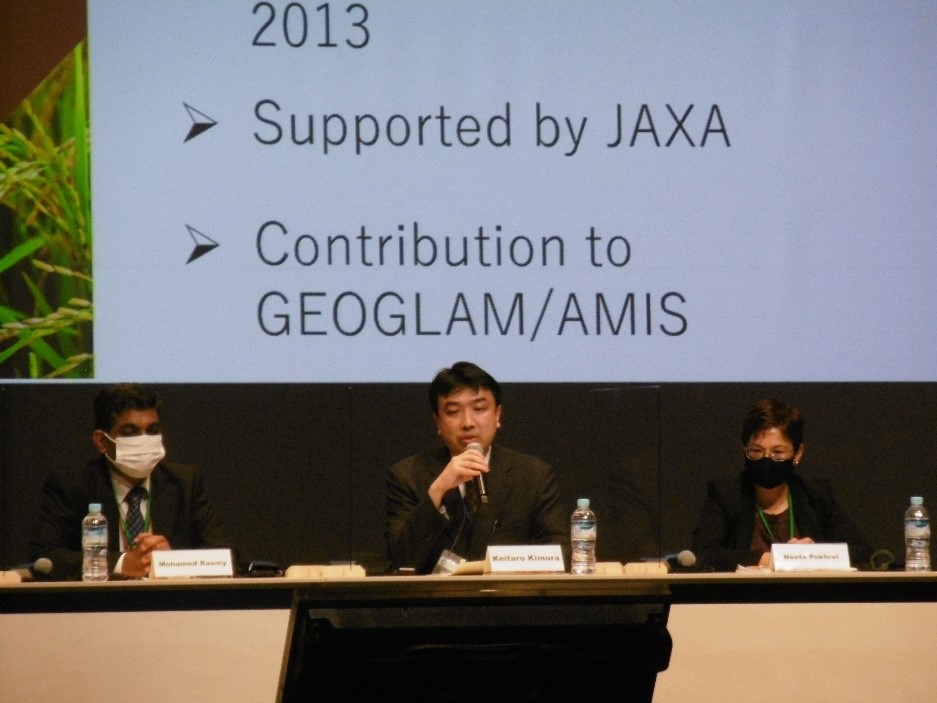 Mr. Keitaro Kimura, Ministry of Agriculture, Forestry and Fisheries of Japan, introduced the Rice Growing Outlook (RGO) Report that is one of activities in ASEAN Food Security Information System (AFSIS) as an international cooperative activity of MAFF. The RGO is a report using satellite weather observation data including water-related date such as soil moisture content and precipitation amount. It contributes to food security in regions by providing accurate and timely information and is available in the website. He also introduced that predictions in the RGO are made based on information from JASMIN (JAxa's Satellite-based MonItoring Network system for FAO AMIS Market Monitor) to provide accurate information using satellite data for agriculture.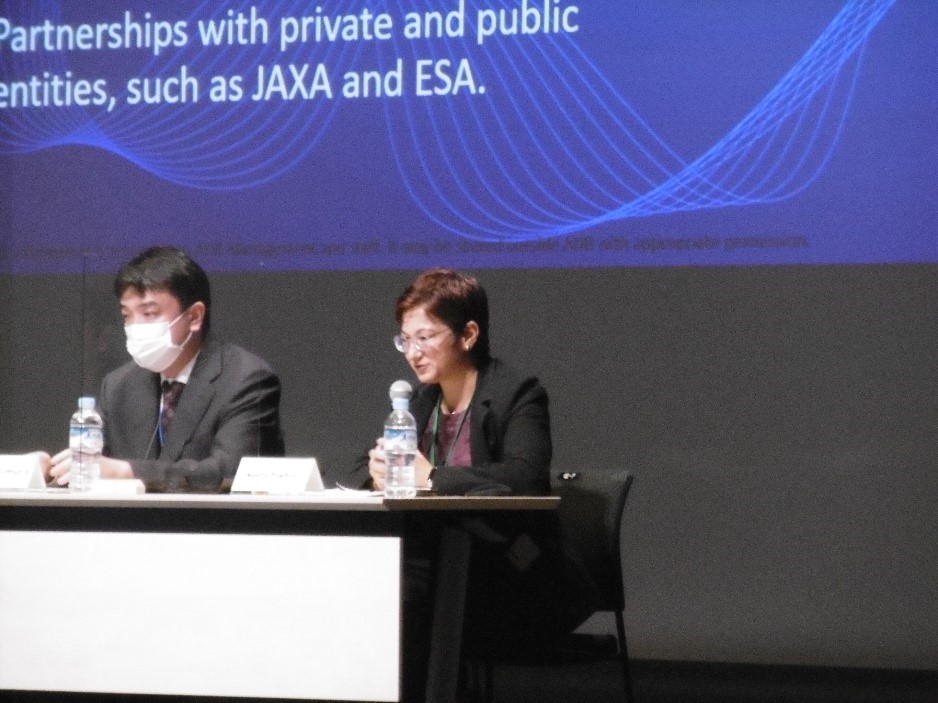 Ms. Neeta Pokhrel, Asian Development Bank (ADB), mentioned the satellite data as a cost-effective and reliable tool and added that the data from space agencies would be useful in terms of the protection of civilians and as well as supporting policymakers. She also introduced that one of ADB's missions is to expand the satellite data utilization to the 46 member states of the region not only for disaster response but also for other fields such as agriculture.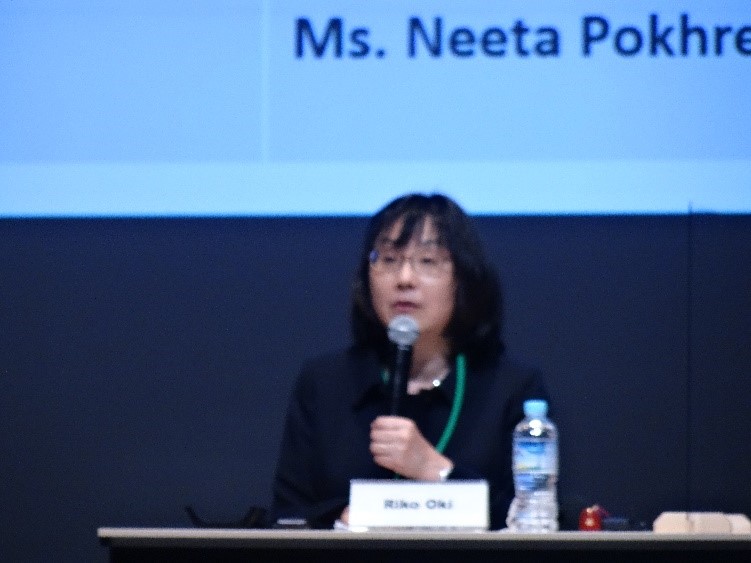 At the end of the session, Mr. Oki, Director of the Earth Observation Research Center, gave a summary of the session, noting that, as Mr. Socrates F. Paat, Jr. and Mr. Stephen Meke had mentioned, satellite data is beneficial to the Asia-Pacific region in which JAXA recognizes the need for further improvements
She also mentioned that JAXA will try to provide more accurate and long-period satellite data to implement systems in society such as GSMaP which is frequently updated by satellite data, and contribute to global water issues that Dr. Rasmy and Ms. Pokhrel mentioned through new missions.