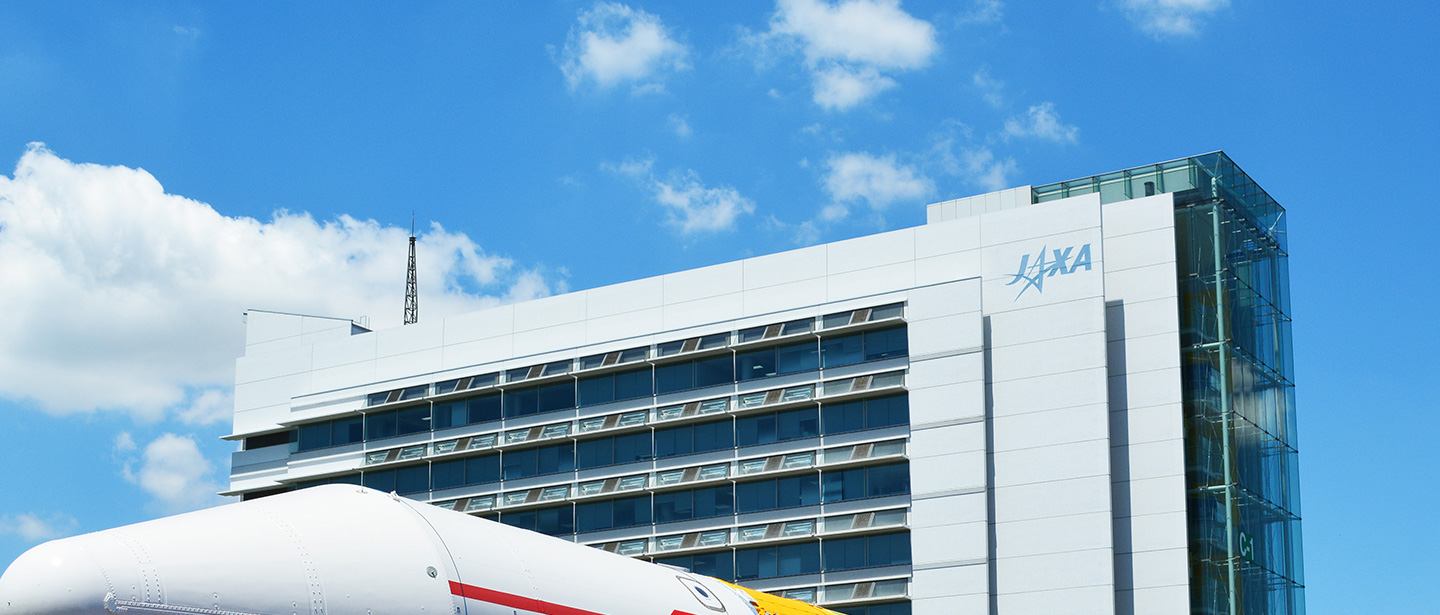 About Space Technology Directorate I
Message from the Director General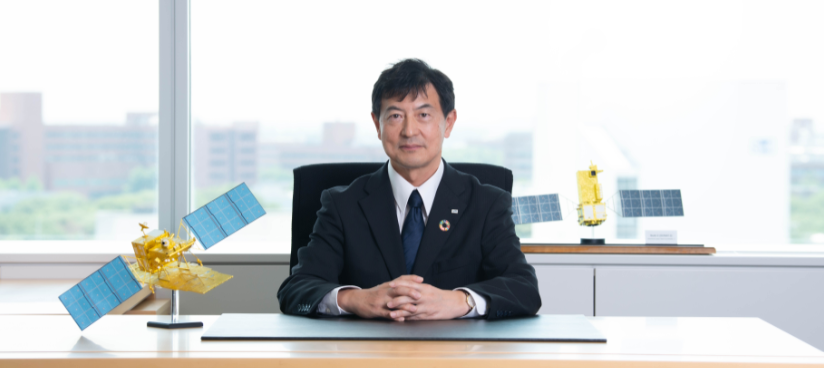 TERADA Koji, Vice President, Japan Aerospace Exploration Agency
Today, the world is changing at an unprecedented pace, and we are facing a situation beyond our imagination. These changes extend in different aspects, such as the social environment itself, lifestyles, and people's mindsets as society develops, as well as the services provided to such society and people, and the business models that offer these services.
The Space Technology Directorate I has been working on the research, development, and utilization of satellite-based technologies for many years in collaboration with various partners. We have successfully demonstrated these space-based technologies that contribute to people's lives in diverse ways, including navigation, disaster monitoring, and continuous observation of greenhouse gases, sea ice extent, and forests for the Paris Agreement and Sustainable Development Goals (SDGs) achievement.
On the other hand, in order to solidify the technology as a social infrastructure, it is necessary to demonstrate technologies, but also to develop various application systems and to ensure its sustainable operation by collaboration with partners. In this era of rapid change, it is also important that the technologies we have developed and the new technologies we will challenge to create will be proven to be useful for stakeholder in our society.
To this end, the primary focus of the Space Technology Directorate I is to reside with people's daily lives. We will continue to challenge for making the world to be more attractive by proposing new technologies and applications to address various social issues utilizing satellites, and sharing goals with our partners.
Organization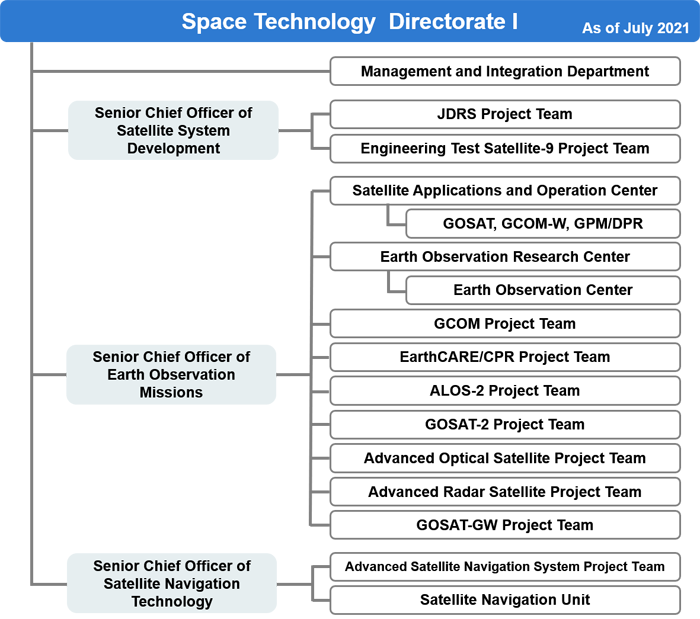 Field Centers (Tour and Exhibits)
Space Technology Directorate Ⅰis leading the development and application of satellites that directly contribute to people's daily lives, at the Tsukuba Space Center as its main location. We are also operating the Earth Observation Center and the Regional Satellite Applications Center for Disaster Management.
Tsukuba Space Center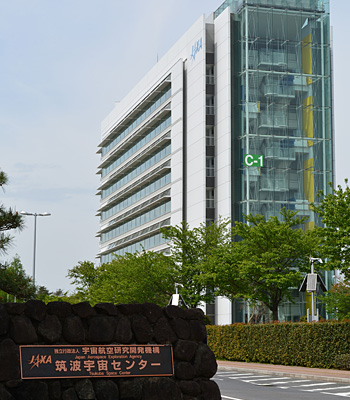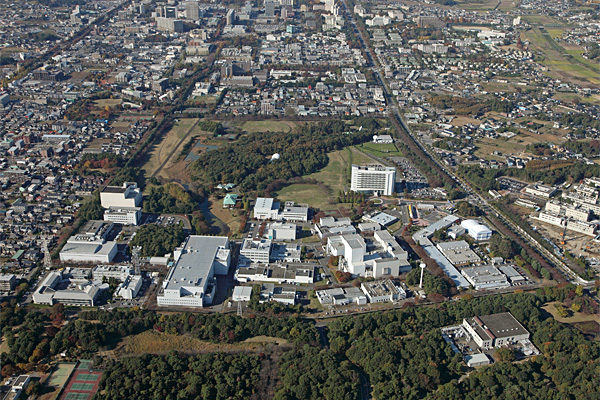 Tsukuba Space Center is the center of Japan's space development, located in Tsukuba Science City.
Visitors can take a look at full-scale of satellites, Kibo laboratory for the International Space Station(ISS) and other Japanese cutting-edge technologies.
Location: 2-1-1 Sengen, Tsukuba-shi, Ibaraki 305-8505 VIEW MAP
Earth Observation Center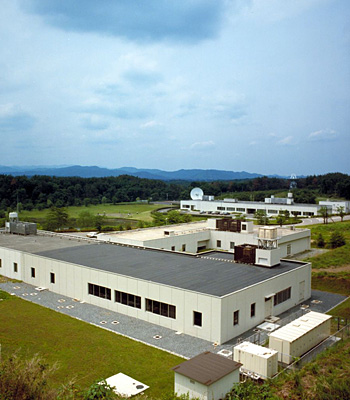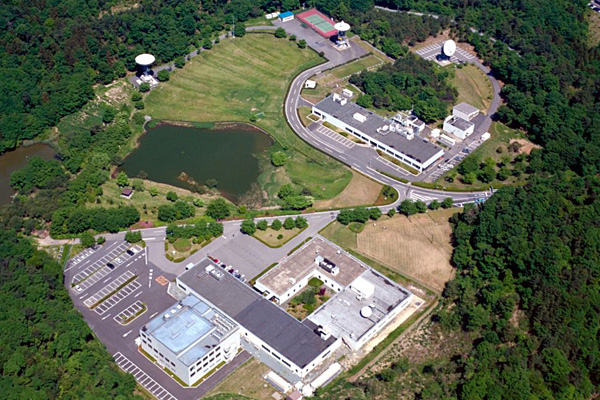 The Earth Observation Center (EOC) conducts image processing, inspection and analysis. The processing data is provided to local governments, research institutes and universities and utilized in various fields, such as resolution of environmental issues, disaster monitoring and resource exploration. Also, in order to utilize satellite data effectively, a project to collect related data internationally and provide it as data sets is going on under the global cooperation.
Location: 1401 Numanoue, Ohashi, Hatoyama-machi, Hiki-gun, Saitama 350-0393 VIEW MAP