Renewal of the Earth Observing Dashboard, Joint analysis website of JAXA, NASA, and ESA using Earth observation data
Japan Aerospace Exploration Agency (JAXA), in cooperation with National Aeronautics and Space Administration (NASA) and European Space Agency (ESA), has analyzed changes in the global environment and socio-economic activities using Earth observation satellite data in order to understand the impact of the COVID-19 from space. We have made the results of this joint analysis available on the "Earth Observing Dashboard", the joint website of the three agencies, since June 2020.
In order to better contribute to our understanding of global and diverse environmental changes, we have expanded the scope of our website into six new independent fields: Atmosphere, Agriculture, Biomass, Water and Ocean, Cryosphere, and Economy in addition to COVID-19, and have relaunched the Earth Observing Dashboard.
Through the Earth Observing Dashboard, we hope that Earth observation satellite data will be utilized as objective perspectives and information for a broader understanding of global-scale issues such as environmental change and climate change, as well as the social and economic impacts caused by them.
Earth Observing Dashboard
Link: http://eodashboard.org
Open Date: May 20th, 2022(JST)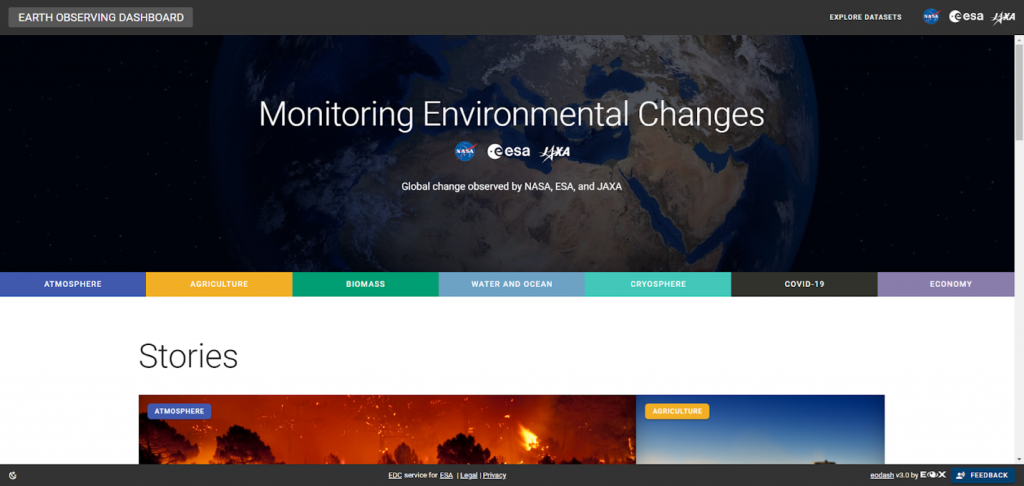 Messages from the representatives of JAXA, NASA, ESA
JAXA TERADA Koji, Vice President/ Director General of Space Technology Directorate I
"Following the collaboration with NASA and ESA on COVID-19, we expanded this dashboard to widely provide the stories on global issues such as environmental and climate change to the world in the trilateral collaboration. From the perspective of contributing to the understanding of the Earth's environment and systems and enhancing the values of Earth observation data, we at JAXA will continue to work on updating this dashboard."
NASA Karen M. St. Germain, Director of Earth Science Division
"At NASA, accessibility to data is a top priority," said Karen St. Germain, NASA Earth science division director. "With our partners at ESA and JAXA, this is another important step to getting the latest information to the public about our changing planet, in an accessible and convenient way, which can inform decisions and planning for communities around the world."
ESA Simonetta Cheli, Director of Earth Observation Programmes
ESA's Director of Earth Observation Programmes, Simonetta Cheli, comments, "International collaboration between our space agencies is key. Our advanced Earth-observing satellite data provided by ESA, NASA and JAXA are used every day to benefit society at large and advance our knowledge of our home planet.
"After the success of the Earth Observation Dashboard, I am delighted to see how our resources and technical knowledge can be expanded and used to further our understanding of global environmental changes and other societal challenges impacting our planet."
Earth Observing Dashboard
This website provides stories to explain changes in the global environment and the effects of environmental changes on social activities. We expect this to be used not only by scientists and decision-makers, but also by people who may not be familiar with satellites and Earth observation data. Through the interactive display of Earth observation data, users can explore countries and regions around the world to see how the indicators in specific locations change over time.
In addition to the original COVID-19 focus, the dashboard now contains six focus areas.
Atmosphere: This focus area demonstrates ways in which air pollution and climate change contribute to the biggest environmental challenges of our time. JAXA provides data of GOSAT tropospheric partial column of the carbon dioxide (CO2).
Agriculture: Users can explore satellite data that provides insights into agricultural production, crop conditions, and food supply. JAXA provides data: GCOM-C Vegetation Index, GSMaP Precipitation and AMSR2 Soil Moisture.
Biomass: This focus area features a story describing how trees and plants remove substantial amounts of carbon dioxide out of the atmosphere each year. JAXA provides the ALOS-2 and ALOS data to generate the biomass map, which is introduced here.
Water and Ocean: This area focuses on the Earth's largest natural resource and enables users to discover a view of the ocean that is as rich and complex as that of land. JAXA provides data of GCOM-C Net Primary Productivity (NPP).
Cryosphere: This focus area visualizes the impact of global warming on sea ice extent geographically. JAXA provides data of AMSR and AMSR2 Arctic Sea Ice Concentration and Extent Long Term Trend.
Economy: This focus area provides access to datasets that show how the Earth's social and economic systems are connected to the environment.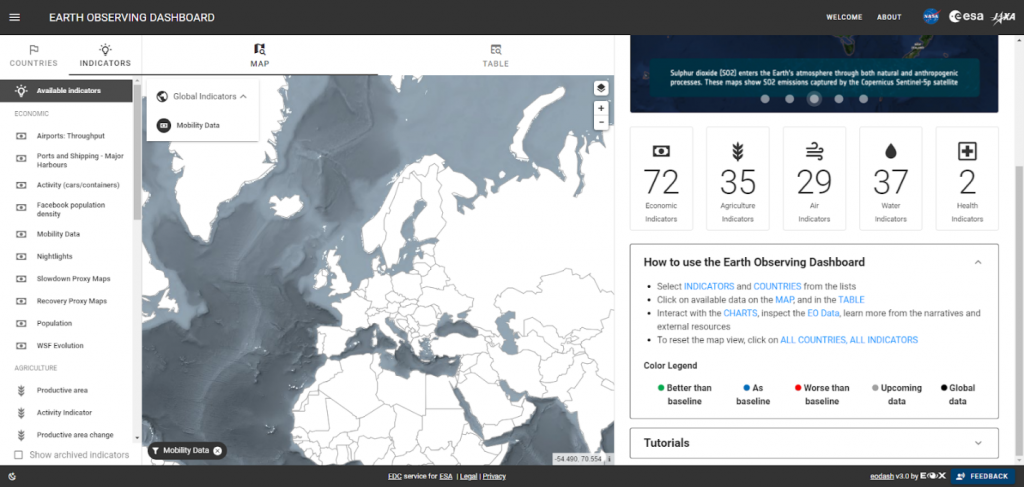 In addition to the curated stories and dataset offered in each of the focus areas, the Earth Observing Dashboard also provides direct access to a dataset exploration tool. Using the dataset explorer, a user can examine any of seventy-two economic indicators, thirty-five agriculture indicators, twenty-nine air quality indicators, thirty-seven water indicators, and two health indicators. It also contains tutorial links that demonstrate how to make use of the dataset exploration tool through real-world examples.